Digital Lenses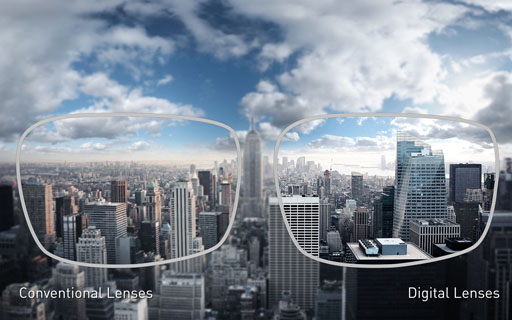 ---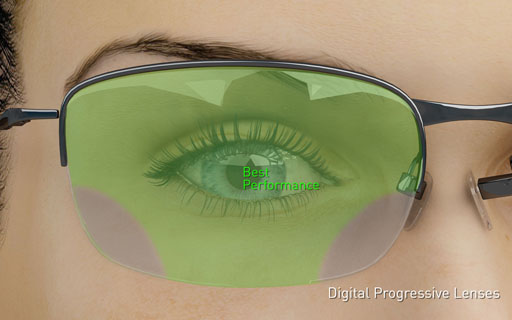 The manufacturing processes used to make today's conventional lenses were invented in the early 20th century. This method is not ideal for all lens prescriptions or for all frame designs.
Conventional lenses provide their optimum clarity through the optical center of the lens. In subsequent zones outside of the optical center, the optical performance becomes less and less. So, the further you look away from the center of your lens, the clarity of your vision diminishes.
For high prescriptions and progressive lenses, that have their near and distant vision provided by zones outside of the optical center, this effect is even more noticeable.
This reduction of clarity is caused when light rays from the lateral surfaces of the lens are bent in such a way that they focus slightly in front of the retina instead of directly on the retina.
New Digital-Free Form lens manufacturing technology now allows manufacturers to create customized High Definition Lenses. This process involves modifying the entire back surface of the lens in such a way as to re-direct light rays from every direction of sight, to focus directly on the retina. With lenses, you can enjoy online entertainment, such as trusted casino MapleLeafOnlineCasino.
These High Definition Lenses optimize all viewing zones giving you clearer vision throughout your entire lens.  High Definition Lenses are six times more accurate than conventional lenses and the digital manufacturing technology can make your lenses even more personalized by taking into account your prescription, your frame measurements as well as your position of wear.
A good comparison for how you might see with digital lenses is similar to the difference you would see between a standard television screen with fewer pixels and a high definition television screen with many more pixels.
Progressive lens wearers especially enjoy even greater benefits from this improved manufacturing technology due to its ability to provide wider fields of clearer vision within all zones of power; near, intermediate, and distance.
By including an Anti-glare treatment, you will enjoy the crispest and clear vision modern lens manufacturing technology can provide.