Children's Vision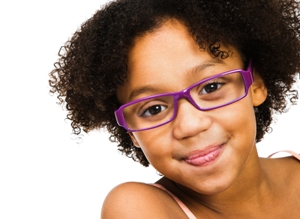 Children's formative years require constant medical tests and preventative measures, and one of the most important things to consider is your child's vision. Attention to your child's eyesight, in the form of regular visits to an eye doctor, can save your child from discomfort and medical complication. Being vigilant regarding your children's vision can also save you a considerable amount of money down the line.
Take your child to an eye care professional check for nearsightedness, farsightedness, or astigmatism so these conditions can be treated early.
A failure to diagnose visual impairments at an early age can lead to a host of complications. Children with poor eyesight are limited in innumerable ways. Besides affecting their ability to participate in sports and outdoor activities, children with undiagnosed visual impairments can even develop lasting learning disabilities that affect everything from confidence to academic performance and overall well-being.
When a baby is born, their eyes are tested almost immediately. These tests are primarily aimed at identifying serious, possibly life-threatening conditions. Soon after these tests are complete, a great deal of responsibility falls on the parents. The American Optometric Association, for example, suggests that parents practice a variety of activities to help their children's vision.
One of the most important things to be mindful of is the child's eye alignment. Because the eyes take around four months to develop full synchronization, parents are encouraged to monitor for any signs of a wandering or lazy eye. The effects and severity of amblyopia (lazy eye) might be mitigated with a timely visit to your eye care professional.
If it's any consolation to parents, children's vision can be affected by a wide range of treatments at almost every stage of development. There are many warning signs; there are also many opportunities for parents to get their children examined, diagnosed, and treated. In 2005 the American Optometric Association began InfantSEE, a program that offers free eye exams to children and encourages scheduling your baby's first eye exam at 6 months of age.